Moving the Goal Posts: The Restart, Home Advantage and Referees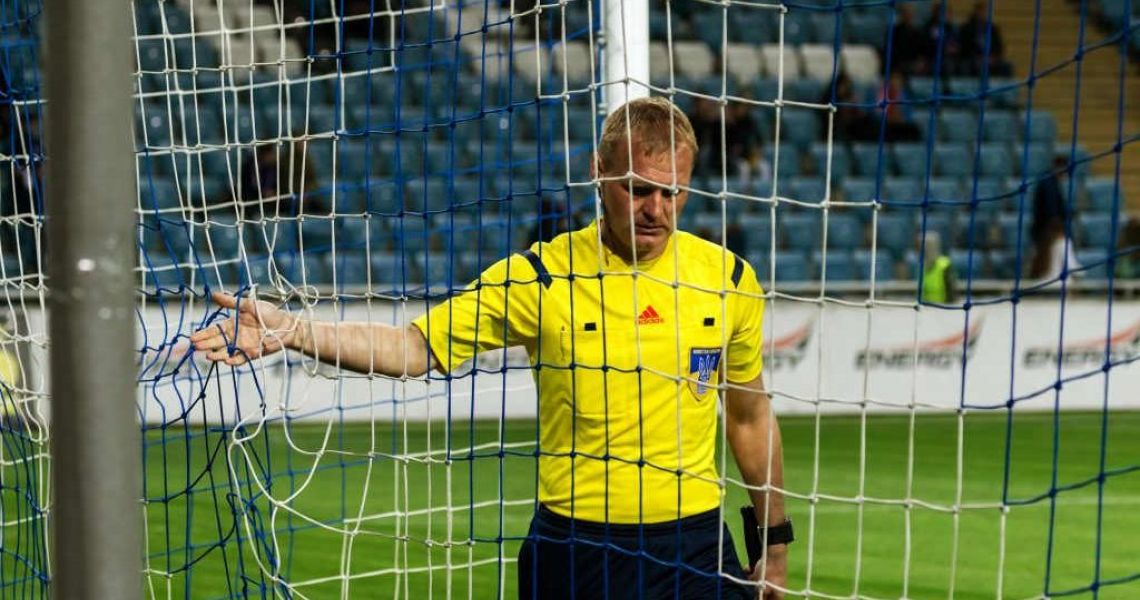 Home advantage is a strange phenomenon in football. Naively, I used to dismiss it. I assumed that a ball was a ball and goal was a goal. Surely it does not matter where a game is played when it is the same game? Other sports seemed to support this notion. Wimbledon was absent of British winners for 77 years until Andy Murray claimed the title in 2013. If home advantage was so important, surely British tennis players would have won the title more frequently? Of course, other sports did report large win percentages for the home side. Possibly the best example is international cricket. In 2018, BBC journalist Marc Higginson demonstrated that the 'away' side in cricket wins approximately 25% of test matches. This average is taken over a hundred years. Hence this is not a new finding, but an important one. For while away sides have always performed poorly in test match cricket, there are clear reasons for this. The most obvious is that the equipment used by the players often changes. For instance, in Australia the Kookaburra ball is used while England play with the statistically bowler-friendly Duke. Another factor to consider is the environment. Australian and South African wickets tend to be drier and harder, resulting in more bounce. What is not really considered as a factor, however, is the impact of the crowd. This is an interesting observation as it is the role of the crowd that has been identified as a major contributor the home advantage effect in football. When it is acknowledged that research identifies football as the sport that experiences the largest home advantage effect in all sports, the subject is ripe for further discussion.
On the 17th June, 2020, the world will once again be able to watch Premier League football. The decision to restart the league has mostly been met with joy; it gives us a glimpse of normality, a glimmer of hope and, of course, the chance to resume tribal rivalries that provides excitement and belonging. While these are valid and important benefits, not to mention the financial obligation of the league and its clubs to complete the competition, there is a concern that is rarely mentioned. This concern involves the integrity of the competition and the people in the middle of the action: the officials.
When researching my book, Blowing the Whistle: The Psychology of Football Refereeing, I was mainly motivated to uncover whether referees are affected by the crowd. While officials are traditionally under-represented in research, there is a significant amount of investigation into whether referees are influenced by spectators. Before we discuss this, it is worth noting that the first ever recorded sport psychology study investigated the impact of an audience on sports performance. Norman Triplett, in 1898, concluded that cyclists performed better in the presence of others. This finding was later termed 'social facilitation' and holds true today, with the caveat that the performer must be experienced at the task at hand. Therefore, we may assume that the audience improves the referee's performance as, particularly at the highest level, they are well practiced and hold years of experience.
This, however, does not take into consideration the partisan nature of football fans and their impact on the decision-making of officials. It can be concluded that there are two main effects of the crowd on referees (seen in figure 1).
Figure 1: The influence of a home crowd on referees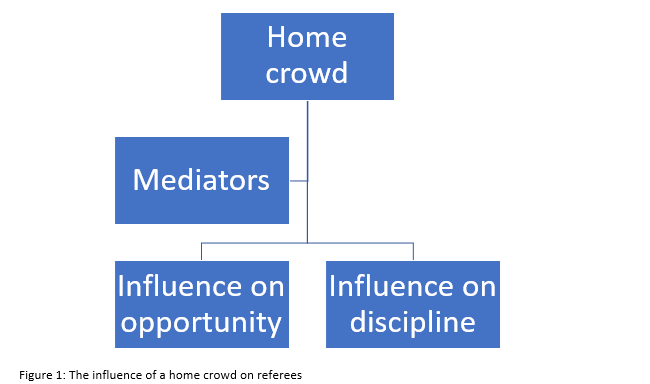 As seen in figure 1, there two main effects of a home crowd on decision-making. These are labelled 'influence on opportunity' and 'influence on discipline'. For a more detailed evaluation of these effects, I would refer people to my book. For clarity, however, each will be summarised briefly here.
Research has indicated that officials are likely to play more additional time than required if the home team is losing by a one-goal margin. This effect is robust and statistically significant even when variables such as injuries, time-wasting and substitutions are considered. In fact, events such as goals and substitutions rarely matter when officials consider time-added on. In 2018, Arsene Wenger complained that the officials did not play enough injury-time with his Arsenal side 3-0 down to Manchester City in the League Cup Final, with only three minutes played. The fourth official, Graham Scott, responded to Wenger's query about the perceived inadequate allocation of added time by saying, "Why do you want more time?" What this quote demonstrates is that officials possibly consider match outcomes when making decisions, something that has been reported by academics investigating match officials. One such explanation for the 'influence on opportunity', for instance, is the so-called 'charity-bias'; officials want to be seen favourably by fans and so will seek to give opportunities to the home side if they are only one goal down by giving more time than normal. A key consideration here is that the officials played more time if the home side is losing by one goal, not the away side. This demonstrates the importance of the crowd, as the effect is not seen with visiting teams and other variables – such as competition rules and equipment – remains the same.
The second effect, 'influence on discipline', is well known. In one fascinating study referees watch a game with or without crowd noise. Not only did the home team receive more fouls in their favour when officials heard sound, the away team were punished more severely for misdemeanours. In fact, in no season since the inauguration of the Premier League in 1992/3 have away teams averaged fewer yellow cards than the home sides.
These effects are tempered by certain considerations. For example, if the crowd is far away from the pitch or there is low crowd density (e.g., the stadium is far from sold out) the impact of the crowd is reduced. These issues aside, however, it can be concluded that the crowd can influence a team's fortunes. Simply put, the 12th man is real.
Of course, referees being influenced by a crowd are not the only reason that home teams perform better. In fact, all disciplines that contribute to the field of sports science have their view. Physiologists, for example, report that players produce more testosterone when playing at home; an innate human response to protecting what is yours. Cognitive psychologists inform us that when players are familiar with surroundings, they can replicate skills more effectively. For example, Jermain Defoe once said that he scored so many goals at White Hart Lane as he could tell where the goals were just by looking at the advertisement boards or the pillars in the old Shelf Stand. Perhaps players just feel more confident at home (or away players more nervous)? It is important to note, however, that home advantage in football is reducing. Again, it is easy to understand some of the causes behind this. Travel has improved, regarding both time and comfort, and pitches are more uniformed and consistent in quality. A significant, and rarely discussed, factor to the reduction of home advantage football however is the development and training of match officials. Previously, we discussed some mediators regarding the effect of the crowd. Well, experience of officials is also significant, suggesting that while top-flight referees will be affected, they are better protected from external influences than novices.
It is therefore unfair to pin all of the home advantage on the referees, and perhaps concern about Premier League sides playing behind closed doors misplaced. However, the effect exists and has been demonstrated perfectly in the Bundesliga, the first major European league to recommence. Professor of Sociology, Ellis Cashmore, noted that home wins in Germany without crowds is only at about 15% (studies report the home side wins at least 50% of the time normally with the next most likely result being a draw). This is important as, although all clubs will be in the same boat, some games are more important than others. West Ham United, for example, have played relegation rivals Aston Villa away with a crowd but will have to play at the London Stadium without home support and all the benefits that come with it. They have to do the same against Watford, a team level on points with them at the time of writing. At the other end of the table, Spurs have to play Champions League rivals Manchester United behind closed doors, despite playing in front of a packed Old Trafford earlier in the season. Ditto Everton for the visit of their rivals Liverpool.
Of course, this effects all teams, and this is an unprecedented situation. It is not perfect and is perhaps the best we can do. But as the league starts again, some clubs may feel fortune has not favoured them when they reflect on their remaining fixtures and the psychology of sports officials.
Stuart Carrington
Stuart Carrington is a lecturer in Sports Coaching Science at St Mary's University, Twickenham, London. He is the author of Blowing the Whistle: The Psychology of Football Refereeing which is available here: https://www.amazon.co.uk/Blowing-Whistle-Psychology-Football-Refereeing/dp/1911121626/ref=sr_1_1?crid=1RMZKANQOYRG6&keywords=blowing+the+whistle&qid=1578307434&sprefix=blowing+%2Caps%2C144&sr=8-1