AoSport provide one whole club and sporting platform.
AoSport offers:

AoSport is for:

AoSport provides you to:

AoSport can raise:

Filming
Stream
Recording Live
Offline recording
Upload
Highlight reels

Players
Coaches
Clubs
Parents / Fans
Officials
Sponsors

Analyse and feedback
Evidence and track
Plan and evaluate
Educate and improve
Develop and train
Observe and action plan

Commercialisation
Revenue
Performances
Engagement
Safeguarding
Community
All under one platform - Live, off line or on demand - 24/7.
From Grass roots to the Elite all players must..... Think... Analyse.... Evaluate. If a player cannot think about playing their sport, then they cannot
develop
challenge themselves
work on weaknesses and areas of development when training or playing
set goals and milestones
evaluate performance
work towards an action plan to improve performances
Guess what?
The AoSport Platform software gets the player to constantly think about their actions, performances and key decisions they made in skills, drills and game.
Player Development – Feedback and Self Analysis
How much you want to improve as a player is entirely up to you, you get out what you put in. Our platform can help you and your all round game and in turn help your team.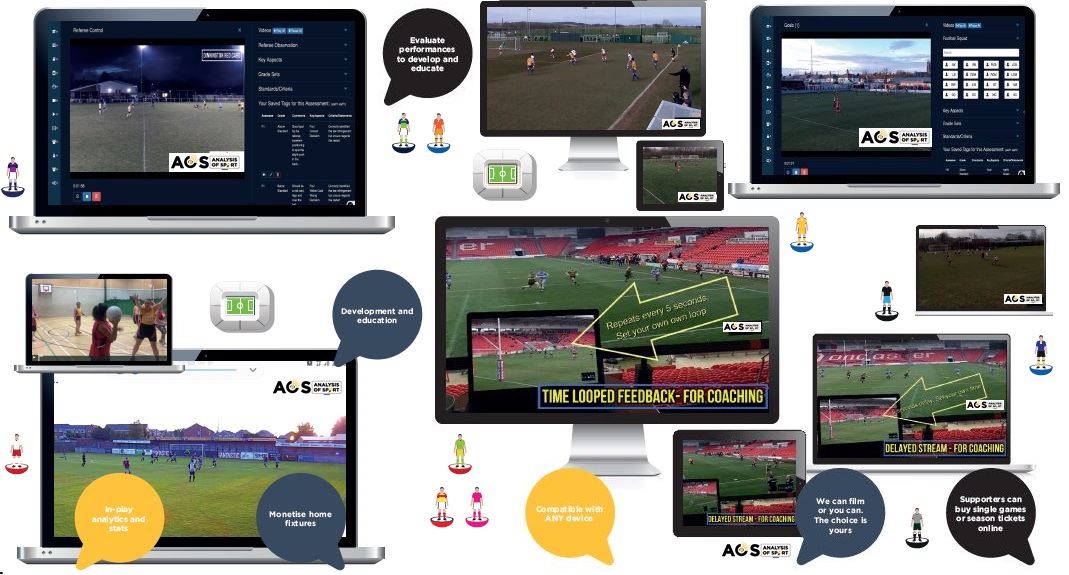 Coaches using AoSport
With coaches been able to get and show you tactics online prior to the next game or even a training session, or on a personal level, watching areas of your game and getting feedback from your coach and also being able to self-analyse your game. Track the progress you are making, compare game situations, watch all your corners, all your free kicks, all your tackles and analyse how your game has changed and set targets where you would like to improve. Getting support from senior elite coaches if you choose to do so. Getting support from your club coach.
The platform will help your thinking processes to take you to the next level.
Coaches can make players think better and think cleaner, what are they doing next is there another option.
Creating a Highlight reel with AoSport
Watch this short video to show how AoSport can help create a highlight reel for players, coaches, fans and for a commercial entity
The Platform can offer even more such as:

AoSport can help provide evidence, monitoring and recommendations for coaching, players, management, fans, parents and officials under one roof - The AoS platform.
Now imagine all this fully track able, with progress clearly identifiable, where you can analyse two videos side by side. Perfect for any team watching the development of any player, new formation, set pieces.